Using the Line Inputs on the Pivitec e32 Personal Monitor Mixer
In addition to a high output headphone amp and balanced line level outputs, Pivitec's e32 Personal Monitor Mixer also has a stereo line input jack on the front panel.
This jack makes it easy to insert external audio sources, such as from your iPhone, iPod, iPad or other mobile device. Using this jack is easy; simply connect an 1/8″ Stereo cable from your device to the Line Input on the e32. The signal is injected directly into the headphone and line level outputs just before the Master Volume control.
So you will need to use the volume control of the source device to adjust its relative volume to the network audio channels but the overall volume will still be adjusted by the Master Volume Fader in the V2Mix Control App. Check out this diagram for details: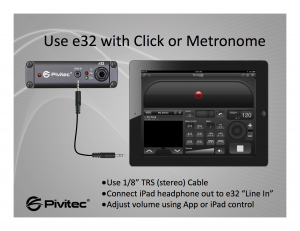 Some great examples for using this feature would be for a click track or metronome or even for playing along with rehearsal or reference tracks. Click tracks are often assigned to one of the network audio channels which are sent to all e32 Mixers on the network. But in some cases it may be more desirable for certain musicians, such as the drummer, to maintain control of the click or where the click is not required by all musicians. This essentially saves up to two network channels to be used for other audio sources.
Case Study
Bryan Head, drummer for Roger Hodgson, likes to use a metronome app on his iPad as a reference to ensure he starts songs at the correct tempo. But, the rest of the band does not need to hear the click. In this case it is also much simpler to inject the click directly into Bryan's e32 Mixer rather than route it back to the stage racks and connect it as an input to the e16i Input Module. Instead, Bryan uses the above solution to connect the output of his iPad directly to the line input of the e32. He then uses the "Multitasking Gestures" that we outlined in an earlier post to swipe between the Metronome app and V2Mix Pro on his iPad. (Incidentally, Bryan uses the app "Tempo" for his metronome.)
If you have any other ideas for how to use the Line Input jack or if you have any other questions or suggestions for other tricks and tips – please contact us at info@pivitec.com.
We'd love to hear from you!