Using Pivitec V2Mix Pro with Sheet Music and other Applications
If your Worship Team is using a program such as Planning Center Online or OnSong to manage your music, then Pivitec's V2Mix Pro is the perfect way to handle Personal Monitor Mixing chores on the same iPad.
Consolidating these functions onto one device makes for a cleaner stage with less clutter and cables and allows you to maximize your investment in iPads for your Worship Team or band.
Vertical Orientation
Pivitec's V2Mix Pro application works in both Landscape (horizontal) and Portrait (vertical) in order to be compatible with popular sheet music applications that are optimized to work in Portrait mode on the iPad. This way there is no need to rotate the iPad when using different applications.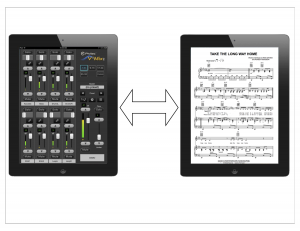 Multitasking
V2Mix also supports the multitasking functionality of Apple's iOS. This means that you can have both your sheet music app (and other apps) open on the iPad and instantly switch between them. Enabling "Multitasking Gestures" on your iPad will make switching between apps even easier by using a 4 or 5 finger "swipe" to right or left. Set this up by going to "Settings" > "General" and then scroll down to "Multitasking Gestures" and turn that feature "On". (See image below.) Using the "swipe" gesture takes a little practice but once accomplished it makes switching between apps just as fast as changing pages in a sheet music app!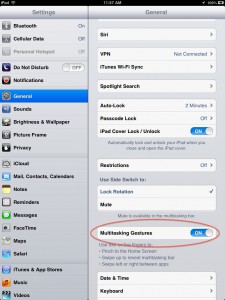 We highly recommend that you download Pivitec's V2Mix Pro Application, enable "Multitask Gestures" on your iPad and give it a try for yourself! This tip is also great for using with Metronome or Tuner apps – any other task that you use your iPad for in playing on your Worship Team or band.
As always, feel free to Contact Us with any questions or to inquire about getting a demo of Pivitec's Personal Monitor Mixing System.