Pivitec Personal Monitors Featured in Live Sound Magazine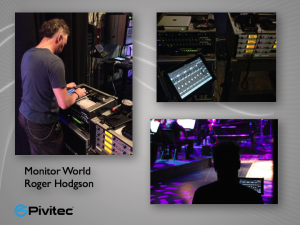 The article details the story of our introduction to Roger Hodgson and his decision to replace their current monitor solutions with Pivitec's e32 Personal Mixer and V2Mix® Pro Control App.
In addition to the 32-channel capability and much higher audio quality, Roger's engineer, Howard Heckers, really liked the flexibility of the e32 to be either rack mounted for use with their Sennheiser Wireless In-Ear Monitor systems or be deployed on stage for a wired Personal Monitor Solution. As mentioned in the article the band is using 5 of the e32 Mixers for Personal Monitors. Bassist David J Carpenter and drummer, Bryan Head, are both using local e32 Personal Mixers with a wired In Ear Monitor Solution. Keyboardist Kevin Adamson and Sax and Keyboardist Aaron Macdonald are both using rack mounted e32′s connected to Sennheiser Wireless transmitters. The last rack mounted e32 is reserved for Roger Hodgson and the band also carries a 6th "spare" e32. The band uses dedicated iPad 2′s for control using the V2Mix® Pro App and they use an Apple Airport Extreme to set up a dedicated wireless network used solely for control of the system.
Below is a shot of the rack showing the two e16i Input Modules, e09SW-P PoE Ethernet switch, and rack mounted e32 Personal Mixers.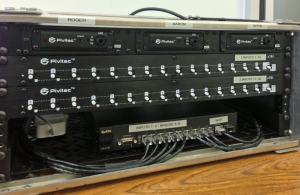 Below are a few more shots of the setup:
The result is a highly portable and road worthy system that so far the band has used on 3 continents and for scores of shows. They have been a great band to work with and we are very appreciative of their support of Pivitec and proud that they chose us for their Personal Monitor Solution.
Read the article (link here) for all the details.