Visit Pivitec at InfoComm 2015 + VIP pass for free admission.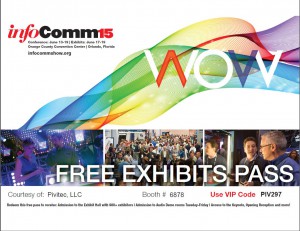 This year at InfoComm 2015 Pivitec will be offering hands-on demos of the e32 Personal Monitor Mixing System as a sponsor of the Technologies for Worship Live Events Stage at booth 6878. Visitors will have the opportunity to mix the NOW! Church Band live and test drive a complete digital Personal Mixing System that includes Sennheiser Evolution G3 Wireless Monitors.
Tom Knesel will also be presenting a Case study on the rock band ACCEPT and how Pivitec's advanced AVB networking and PMM system streamline this busy band's monitor rig at the AVnu Alliance Pavilion Booth 551. Presentations are Wednesday, June 17th at 10 am, and Thursday June 18th at 2 pm.
For more information or to meet with Pivitec, email to Info@Pivitec.com