AVDECC Controller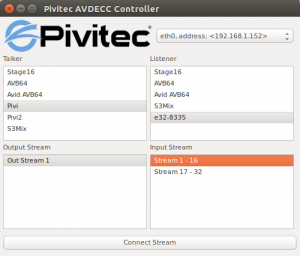 This application can connect streams from talkers to listeners of devices supporting the Audio Video Discovery, Enumeration, Connection management protocol as defined by IEEE 1722.1. It runs on Mac OS X, Windows, and GNU/Linux.
Fill out the form below to immediately receive download links by email:
Usage
Select the network interface that is connected to the devices you want to control
Choose the talker and the talker's output stream
Choose the listener and the listener's input stream
Press "Connect Stream" to connect the output stream to the input stream
Windows
WinPcap must be installed to allow network communication.
GNU/Linux
Requirements: Give the executable the CAP_NEW_RAW capability with sudo setcap cap_net_raw=ep pivitec-avdecc-controller-gtk or run as root with sudo ./pivitec-avdecc-controller-gtk
Version History
August 7th, 2015: Prevent setting the number of channels per stream to 0
February 19th, 2015: Fix a crash on Windows when selecting a network interface
December 20, 2014: The localized description of a stream is shown if the object name is not set
September 14, 2014: Add support for disconnecting a stream
September 10, 2014: Add support for setting a clock source
July 9, 2014: initial release
Acknowledgements
These libraries are used: avdecc-lib, jdksavdecc-c, phoenix, winpthreads