ACCEPT Tour World with AVB and Pivitec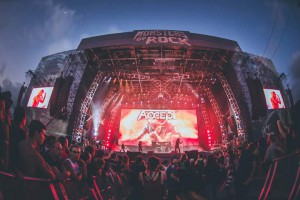 ACCEPT, an internationally-recognized, classic heavy metal band from Germany, touring the globe for over three decades, is now utilizing a highly portable system with an AVB (Audio Video Bridging) backbone. ACCEPT needed an agile, mobile system that would deliver superior sound quality for a consistent performance at each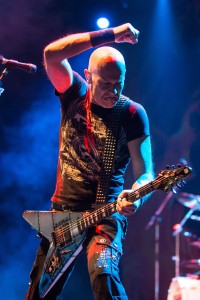 tour stop, regardless of location. Set-up needed to be quick, seamless, and most importantly, easy to transport worldwide; fitting all of the pieces into luggage was a must. The solution is a combination of an Avid VENUE S3L-X console and a Pivitec personal monitor mixing system linked via Ethernet AVB by an AVnu-certified Extreme Networks Summit X440-8p switch.
To combat excessive stage volume, which is a common problem in many show venues, ACCEPT paired its Avid solution with the Pivitec personal monitor mixing system that enables the perfect listening environment for the audience as well as the musicians and tech staff. With a potent feature set that includes Ethernet AVB network connectivity, Pivitec is a true networked audio solution that supports just about any audio interface or console and offers advanced control from a range of native iOS and desktop apps. The Pivitec network easily interfaces with AVB compatible Mac or PC computers for recording, playback, and virtual sound check. This standards-based Ethernet AVB networking solution also offers ACCEPT a future-proof way to take advantage of next-gen compatibility with hardware and software from other manufacturers.
"Before we began using the AVB touring rig, we had to rely heavily on local gear which was different every time," says Wolf Hoffmann, guitarist for Accept. "It easily took a couple of hours per day just to get acquainted with the products and set the entire system up. On top of that was the need for lengthy sound checks so that we could determine if the piece-mealed gear was running correctly.
"Now with our AVB-powered system we have experienced drastic time savings," he continues. "We take advantage of advanced virtual sound checks which allow us to run recordings from the previous night, listen to the channels and check the sound quality easily and efficiently from the front of the house."
Accept's entire touring rig, including amps, is packed neatly into approximately 10 bags, all small and weighing in at 50 pounds or less. The group has integrated other elements from its presentation, including lighting controls.
"We definitely are an 'old school' rock band, but we've been around the block," concludes Hoffmann. "Most people don't associate us with cutting edge technology. Incorporating this AVB-driven touring rig has been a huge success and motivated us to continue to explore and play with high-tech solutions that elevate our performances. AVB has certainly had a huge impact on the experience we deliver. The quality is just mind blowing."
Excerpted from:
http://www.prosoundweb.com/article/avb-powered_touring_rig_on_the_road_with_heavy_metal_band_accept/
http://www.lightingandsoundamerica.com/news/story.asp?ID=C2RM7M