Pivitec Newsletter March 2016
Pivitec Announces Changes to the e32 Mixer

Pivitec has released the e32.2 Mixer with a new sleek look. The new circuit design is cooler running to reduce heat in the rack.
Now shipping!
Did you know?
The e16i 16 Channel Analog Network Audio Interface enables you to bring analog line level outputs from wireless mic receivers and keyboards into your console digitally. Simply connect up to 16 line level outputs from these devices into the e16i, connect the e16i to either an AVB or standard Ethernet switch, and then onto your console via AVB or Pivitec's bi-direction interfaces for Yamaha (e16i/o-MY) and/or MADI (e64i/o-MADI). This works with or without Pivitec's Personal Monitor Mix (PMM) system operating on the same network. You have now added an inexpensive 16 channel line-level stage box. If you take advantage of the direct Pass-Thru jacks on the back of the e16i maybe to a mixer for recording, you can add Stage Splitter to the e16i roster of functions.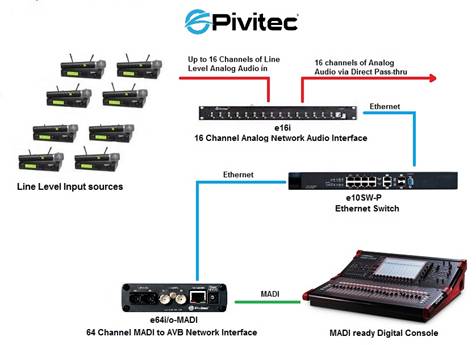 There are more creative uses for our Pivitec family of devices on the way. Stay tuned!